We believe that small businesses are the lifeblood of the U.S. economy, and historically have been underserved financially. Since our founding in 2006, we've been committed to making it efficient and convenient for small businesses to access financing online.
We know that a small business is more than just a credit score. That's why we pioneered the use of data analytics and digital technology to aggregate and analyses thousands of data points to assess the creditworthiness of small businesses rapidly and accurately.
We also know that small business owners don't have enough hours in the day as it is, and when they need funds, they need them right away. That's why we created a simple online application, backed by exceptional customer service – so business owners can get the funds they need, and back to running their business.
Apply Now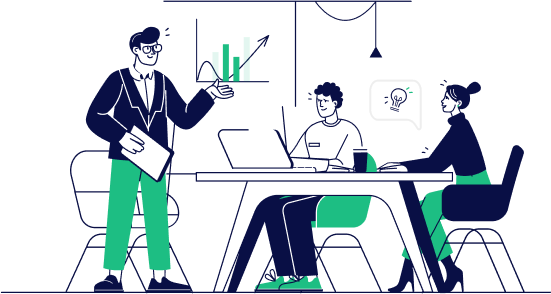 For every $1 lent to small business through online lenders, sales increased by an average of $2.31, which created $3.79 in gross economic output in their local communities.*
Privacy and Data security
Ensuring the privacy and security of our customers' information and disclosing how borrower information is used.
The best customer experience
Building a sustainable and scalable model of financing that enables small businesses to thrive.

Respect for our customers
Serving as a trusted partner and treating our customers with respect in all matters.

Transparent information
Providing our customers with complete information about our products so they can make informed decisions.
Live by Fund My Biz values
Attracting and retaining the best team of professionals in the industry.
Seamless experiences
Navigate funding with ease; Fund My Biz ensures smooth applications and swift approvals.