Services
We offer a diverse range of
funding services
Apply Now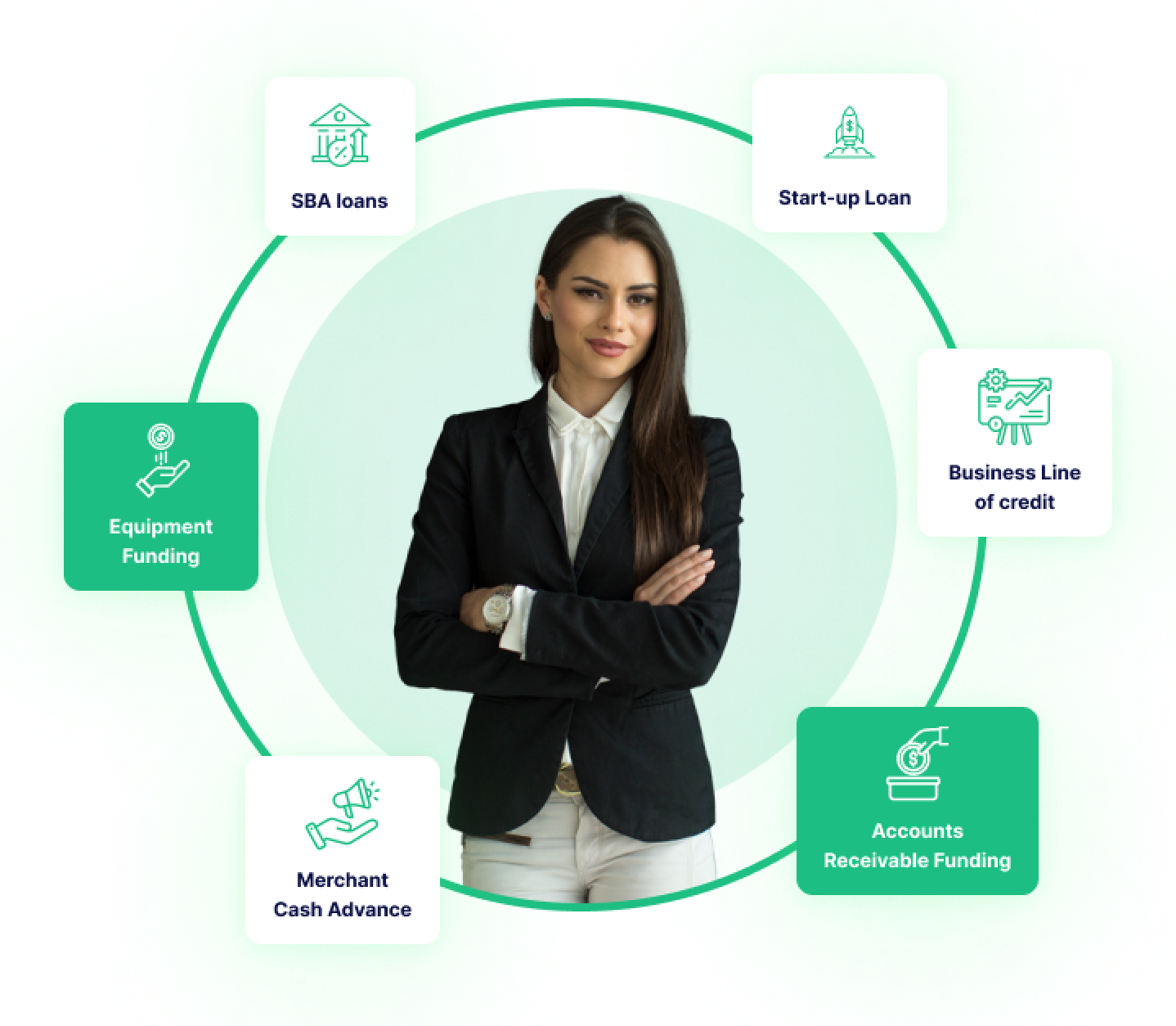 3 Reasons to

choose Fund My Biz over any other lender
Simple Process
Apply in as little as 10 minutes, with a decision as soon as the same day—all to save you time.
Tailored Options
Diverse funding options and flexible repayment terms are offered to cater to your specific needs.
Real People
An extensive team of U.S.-based financing advisors is available to assist you in finding the ideal solution.
Personalized Financing Options to Meet

Your Unique Needs

Start-up Fund
Obtaining funding for a business in its early stages can be quite challenging. Start-up funding provides assistance for young businesses that might not be eligible for traditional bank financing. Fund My Biz offers a quick and hassle-free way to raise funds for your business, whether you want to start a new venture or expand an existing one. Compare various funding options and select the one that best suits your preferences. Regardless of whether your business is young or established, we have the appropriate funding option for you.
Create a solid business plan which includes a business forecast that reflects your expected future revenue and sales. A well-thought out and structured business plan can help you identify your funding requirements and seek funding accordingly. It can also attract potential investors to your business. Get your required funding, fast and safe, at The Fund My Biz.

SBA Funding's
SBA funding is financial assistance for small businesses partially guaranteed by the US federal agency, Small Business Administration. Committed to supporting the growth and development of small businesses, SBA collaborates with lenders across the nation to offer funding with flexible terms and low interest rates. In essence, SBA funding is provided by private lenders and backed by the government. SBA guarantees a portion of the funding and repays it if the business is unable to do so, reducing the risk for lenders and making it easier for businesses to access funding. SBA funding can be an excellent option for businesses that might face challenges qualifying for traditional bank financing.
Selecting the appropriate funding option for your budding enterprise can be a game changer. At Fund My Biz, we provide you with a diverse range of start-up friendly SBA funding options.

Small Business Line of Credit
However Structured And Planned Your Business Is, You Might Face Urgent Need To Raise Funds At One Point Or The Other. It Could Be For Obtaining Inventory, For Maintaining Cash Flow Or To Meet Any Other Short-Term Financial Necessities. Business Line Of Credit (LOC) Could Be An Ideal Option For You In These Circumstances. LOC Is A Flexible Funding Option To Help You Strengthen Your Thriving Business.
A business line of credit is a valuable resource to address your short-term cash needs. It functions as a revolving financing, allowing you to use the funds, repay them, and use them again as needed. Interest is calculated based on the amount you utilize from the credit line.
There Are Two Types Of LOCs- Secured And Unsecured. In The Case Of Secured LOCs, Lenders Require A Collateral. But They Often Ask For Short Term Assets Like Accounts Receivable Or Inventory Instead Of Capital Assets. Unsecured Line Of Credit Does Not Require A Collateral. A Strong Credit Profile And A Good Business Track Record Can Qualify You For An Unsecured Line Of Credit.
If Your Business Constantly Requires Ready Access To Funds To Meet Your Short-Term Requirements, A Business Line Of Credit Can Be Your Ideal Solution.
Benefits
Revolving lines
Revolving lines of credit from $6K-$100K
Repayments
12-month repayment term, resets after each withdrawal
Automatic Payments
Automatic weekly payments

Equipment Funding
Equipment financing offers a convenient way to acquire essential equipment for your business without straining your finances. Purchasing expensive equipment outright can be burdensome for small businesses, and even larger enterprises may prefer a more flexible payment option. Equipment financing proves beneficial in such situations. Lenders provide secured funding, using the purchased equipment itself as collateral. This type of financing allows you to make smaller payments spread over a period of time. At Fund My Biz, we provide fast and straightforward funding options to help you purchase or repair critical equipment needed for your business. Simply let us know your requirements, and we'll suggest the most suitable equipment financing for your needs.

Merchant Cash Advance (MCA)
Merchant cash advance is an alternative to traditional financing. It offers a funding solution for businesses with low credit scores and limited or no assets. Through this system, businesses can raise funds based on their card transactions. If your business has a decent volume of card transactions, the merchant cash advance system could be the ideal funding option for you.
The merchant cash advance system offers several advantages over traditional financing methods. Firstly, you can obtain the necessary financial support without the need for collateral. In this system, funders provide the required amount in exchange for a share of your future credit card sales. Repayments are based on your daily or weekly credit card sales, providing greater flexibility for managing your cash flow effectively.
Indeed, cash advances are processed much faster than conventional financing. If you have a short-term credit requirement and don't qualify for traditional funding, the merchant cash advance is an ideal solution for you. It offers a quicker and more accessible option to address your immediate funding needs effectively.

Accounts Receivable Funding
Accounts receivable funding helps businesses raise a working capital by using their outstanding invoice as the collateral. Businesses often allow a considerable portion of their sales on credit. When a lot of transactions happen on credit, it might result in cashflow shortage and affect the smooth functioning of the organization. In such cases, companies can borrow money depending on the value of the receivables. The company seeking finances commits some or all of its outstanding invoices to the funders. Company will receive a fraction (up to 90%) of the value of the receivables from the financiers. But the company will still be in charge of the receivables.
Waiting for unpaid invoices can put your business in a difficult position. With accounts receivable funding, you can quickly access working capital. This funding option doesn't require any other valuable assets apart from your receivables to secure the transaction. It is a fast and straightforward option available for both small and large businesses. At Fund My Biz, we assist you in managing your receivables smartly and help you maximize the benefits through accounts receivable financing.